Circuit Board Mount Thermocouple connectors
Description
The miniature connector is available in either horizontal or vertical mounting style. These connectors are also available with closed ends or transistor retainer clips. The PCC-SMP optional transistor retainer clip accepts TO-92 style transistors for cold junction temperature measurements at the transition from thermocouple alloy to copper wire.

See below for updated printing on the connector: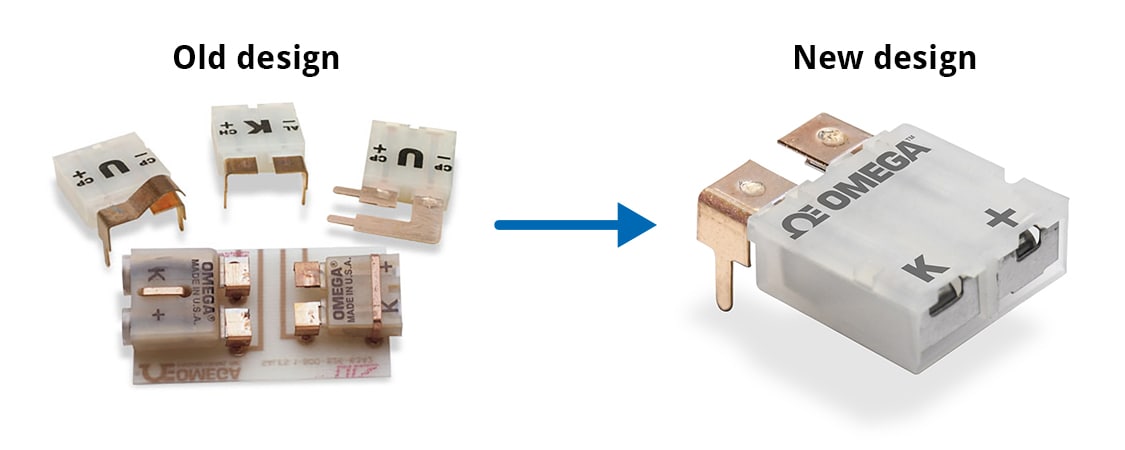 † All amounts shown in EUR
Note: PCC-OST is available only in packages of 100.
Ordering Example: (1) PCC-SMP-K-100-R Circuit board connector for miniature connectors, type K calibration, with transistor retainer clips. Package of 100, €324.71
Part Number Builder
Build Your Part Number Below
Option Descriptions:
(1) Connector Size
select from:
SMP
for Miniature flat pin
OST
for Standard round pin
(2) Mounting Style
select from:
Nothing(leave field blank)
for Horizontal Mounting
-V
for Vertical Mounting (SMP mini style only)
(3) Thermocouple Type
select from:
U
for Uncompensated (copper)
J
for Type J
K
for Type K
T
for Type T
N
for Type N (SMP mini style only)
E
for Type E
(4) Pack Quantity
select from:
5
for Pack of 5 - SMP only
50
for Pack of 50 - SMP only
100
for Pack of 100
(5) Optional Transistor Mounting Clip
select from:
Nothing(leave field blank)
for No Clip
-R
for TO-92 Style Transistor Retaining Clip
Note: All combinations may not be valid, check spec sheet for valid part numbers.